advertisement
Linux Mint 12 Lisa
Linux Mint 12 Lisa is a new step forward, using new technologies and a brand new desktop.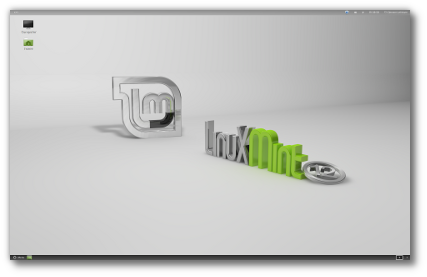 Linux Mint 12 comes with a brand new desktop, built with Gnome 3 and MGSE.
Linux Mint 12 Lisa Installation
"MGSE" (Mint Gnome Shell Extensions) is a desktop layer on top of Gnome 3 that makes it possible for you to use Gnome 3 in a traditional way.
advertisement
You can disable all components within MGSE to get a pure Gnome 3 experience, or you can enable all of them to get a Gnome 3 desktop that is similar to what you've been using before. Of course you can also pick and only enable the components you like to design your own desktop.
Here's how you put Shortcut Launcher To your Desktop In Linux Mint 12 Lisa.
Switch Linux Mint 12 Lisa Desktop

The Linux Mint 12 Lisa desktop is a mix of old and new. It's a brand new desktop but with traditional components. The new technology in Gnome 3 is exciting but the components contributed by MGSE make users feel at home.
Linux Mint 12 Lisa, like previous releases, and despite the fact that it's based on Gnome 3, looks and behaves like a Mint desktop. You can launch applications from the bottom left, easily switch between applications and workspaces using the window list or keyboard shortcuts, keep an eye on your notifications at the top and access Gnome 3 features like "activities" from the top-left corner.
Linux Mint 12 Lisa System requirements:
x86 processor (Linux Mint 64-bit requires a 64-bit processor. Linux Mint 32-bit works on both 32-bit and 64-bit processors).
512 MB RAM (1GB recommended for a comfortable usage).
5 GB of disk space
Graphics card capable of 800×600 resolution
CD/DVD drive or USB port
Bug reports:
Please report any bug you may find in Launchpad.
Download Linux Mint 12 Lisa
Download:
Md5 sums:
DVD 32-bit: ee3d6e2ca498bc7685b7f17cdb5f2eea
DVD 64-bit: 548f0ac303fea840ef138e5669880a74
CD no codecs 32-bit: 40562d26447207cb5111f94b93957a58
CD no codecs 64-bit: 641e0ab8f746b82c36fc3f0bbca70dc7
Torrents:
HTTP Mirrors for the 32-bit DVD ISO:
HTTP Mirrors for the 64-bit DVD ISO:
HTTP Mirrors for the 32-bit CD No codecs ISO:
HTTP Mirrors for the 64-bit CD No codecs ISO:
advertisement