advertisement
Linux Mint 11 Katya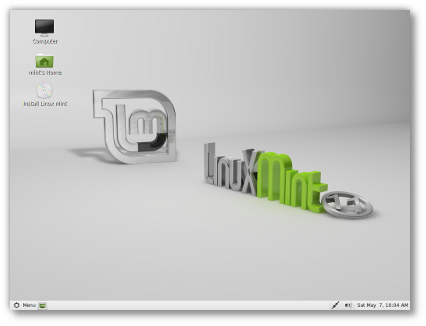 Linux Mint 11 "Katya"
Linux Mint 11 Katya comes with updated software and brings refinements and new features to make your desktop even more comfortable to use.
Multimedia codecs and extra applications
Linux Mint 11 Katya comes as a liveDVD. A liveCD is also available for people without a DVD burner or distributors established in the USA and Japan. The liveCD comes with less applications, no multimedia codecs and no restricted software, making it fit within 700MB and safely distributable in countries where the legislation allows patents to apply to software.
From the Linux Mint 11 liveCD, the installation of codecs and extra applications is now easier than ever.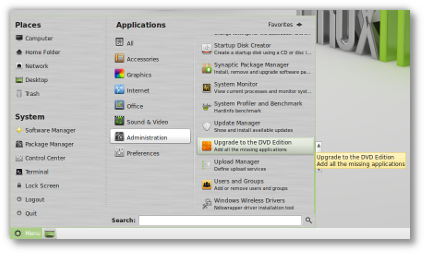 Linux Mint 11 "Katya"
With two clicks of the mouse you'll have all the missing components installed on your system: Full multimedia support, VLC, Gimp, Giver, Tomboy, LibreOffice-Base, Java, Samba, additional fonts, backgrounds, themes, icons, and everything that makes Linux Mint 11 Katya a complete, out of the box, operating system.
Once these components are installed, the links will disappear from the Welcome Screen and in your menu.
A new link was also added in Menu->Preferences, to launch the Welcome Screen after it's been closed or told to no longer appear when you log in.
System requirements:
x86 processor (Linux Mint 64-bit requires a 64-bit processor. Linux Mint 32-bit works on both 32-bit and 64-bit processors).
512 MB RAM (1GB recommended for a comfortable usage).
5 GB of disk space
Graphics card capable of 800×600 resolution
CD/DVD drive or USB port
Linux Mint 11 Upgrade instructions:
To upgrade from a previous version of Linux Mint follow these instructions.
To upgrade from Linux Mint 11 RC, simply apply any level 1 and 2 updates (if any) available in the Update Manager.
Linux Mint 11 Download:
Md5 sum:
DVD 32-bit: 010bad6bf2bb58f61fea8e437366576c
DVD 64-bit: 773b6cdfe44b91bc44448fa7b34bffa8
CD no codecs 32-bit:  b68ffed453e8d64e683bca5c041c3208
CD no codecs 64-bit: f7ba8582b319eeda33636bf2b39546a3
OEM 32-bit: c8d1d0b9eaef8b1f1b1b38b65f9c144e
OEM 64-bit: 635879235d2c7a450331c53b767f1e0e
Linux Mint 11 Torrents:
Linux Mint 11 HTTP Mirrors for the 32-bit DVD ISO:
Linux Mint 11 HTTP Mirrors for the 64-bit DVD ISO:
Linux Mint 11 HTTP Mirrors for the 32-bit CD No codecs ISO:
Linux Mint 11 HTTP Mirrors for the 64-bit CD No codecs ISO:
advertisement
Linux Mint 11 HTTP Mirrors for the 32-bit OEM ISO:
Linux Mint 11 HTTP Mirrors for the 64-bit OEM ISO:
advertisement